Welcome to Taipei! Taipei is a major city with excellent transportation, so exploring Taipei will be easy and enjoyable for you. You should use the Taipei Metro (MRT) and train networks as much as possible to see the sights of Taipei.
Take the MRT Across Taipei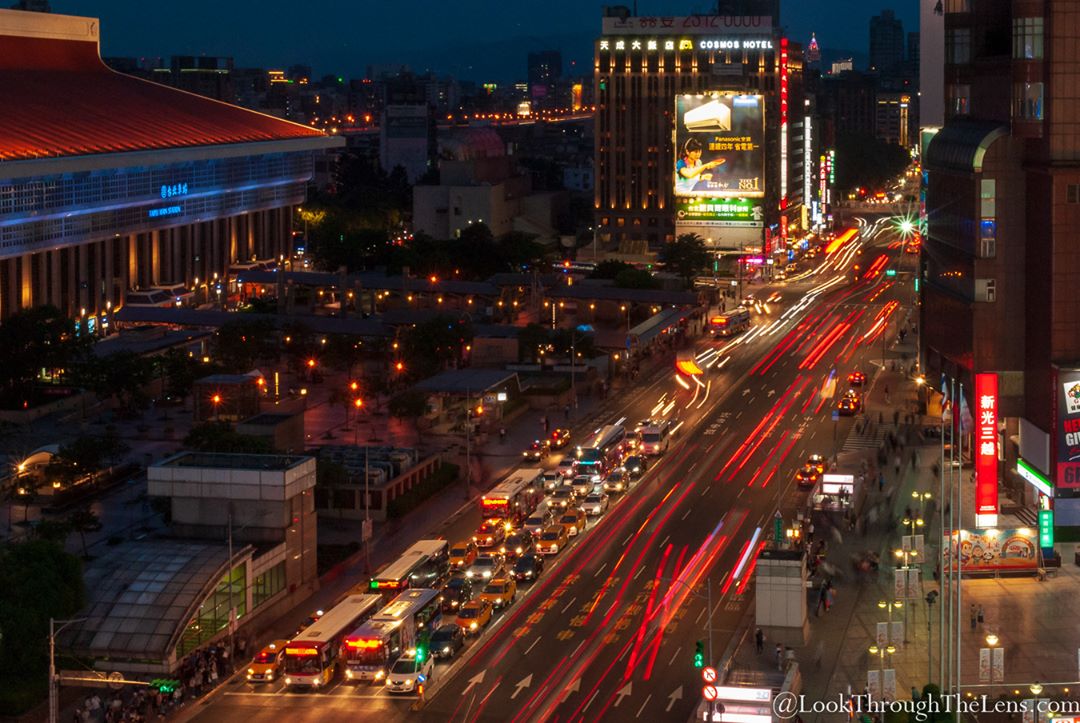 Image via Instagram by LookThroughTheLens (Kenneth Dickson) and is copyright via its owner. All rights reserved. No use without permission. 
The MRT operates five lines across Taipei. It is fast, efficient, and affordable. The routes are colored and named in English appropriately: Red, Blue, Green, Brown and Yellow Lines. Station names are identified in Chinese, English, and by a letter/number combination. Even exits are numbered! Just get a Taipei MRT map in the station or on your mobile phone to plan your trip.
Trains operate frequently throughout the day from 6am to 12am, with a minimum of 6-8 minute headway. To complete your journeys, simply transfer to the other lines at transfer stations. Your single-journey ticket will cost no more than NT$60 (about US$2) on the MRT.
An Easycard helps for faster access to stations, saves 20% off single ticket prices, and can be used on buses and trains, too. You will find the vending machines simple to use with multi-language instructions. Multi-day tickets and cross-system tickets are also available for tourists and visitors. All in all, the MRT makes getting around Taipei easy for travelers, no matter where you are going.
Trains Run Around Suburban Taipei
Taiwan Railway runs through Taipei in an east-west direction and connects at many interchange stations with buses and the MRT, like Nangang, Songshan, Taipei, or Banqiao Stations. From there, you can catch commuter or local trains to tourist spots like Pingxi, Keelung, and Yingge. For Keelung and other cities, express trains are usually faster. So getting around by train is quite practical.
Prices on the trains are comparable to the MRT. You can buy tickets at the station, but to save time I recommend using your Easycard for journeys. Make sure that your have enough funds on your Easycard. If you are buying tickets, there are machines at stations or electronic kiosks.
Three Sample Journeys to Take
In the city, for example, say you are visiting Taipei 101, take the MRT to any station on the Red Line, then jump on a Red Line train towards Taipei 101 Station. The Taipei 101 Tower is a short walk from the exit. Just remember to look up when you come out! Combine this excursion with shopping, dinner, and dancing for an exciting excursion in the East District.
If you have time to explore outside Taipei, I suggest a day trip by Taiwan Railway. Keelung is a popular out of town destination, with a vibrant market and sea front location. There are also many short trips to places like Jiufen for its unique mountain village, Hoping Island for Pacific Ocean views, and Pingxi by mountain train, all no bookings required. Signage is in English throughout the railway network, too.
After you get an Easycard, I believe you will find travel in Taipei pleasurable and accessible by MRT or Taiwan Rail. You can check out other ways to get around Taipei here.